Book: Karma
Series: Kings Of Rebellion #1
Author: KT Fisher
Release Date: 14th June
Genre: Dark Erotic
Cover Designer: Louisa M Creations
Hosted By: Francessca's Romance Reviews

Synopsis: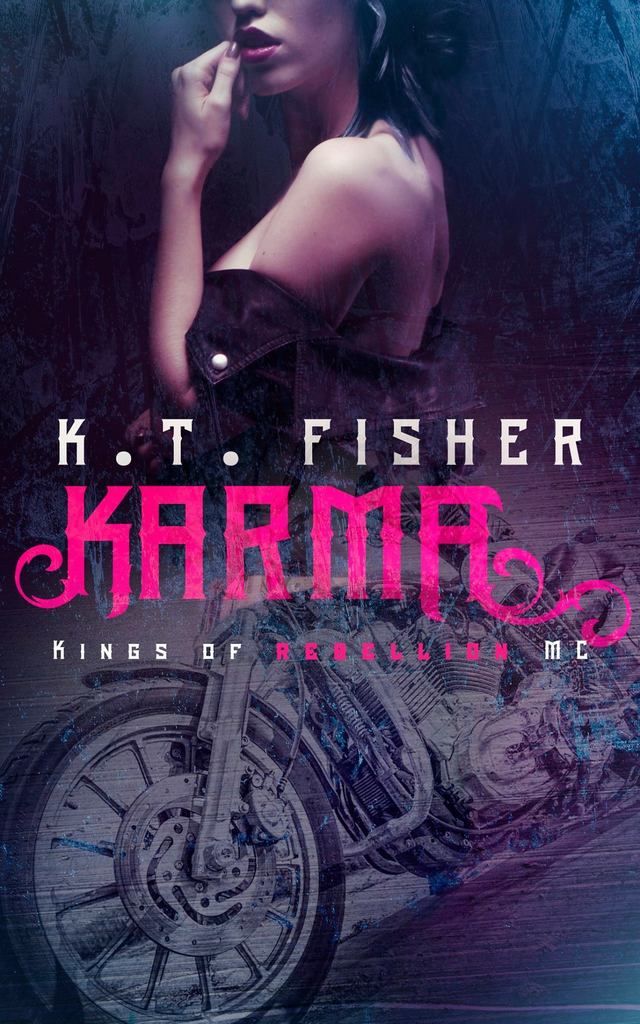 We first met Lauren in Rockstar's Temptation, where she wasn't the best sister to Maisy and tried to come between her and the man she loved.

Lauren doesn't know why she is such a bitch, but she is. There is no use denying it or hiding it. She believes in being who you are and fuck those who don't like it. That also results in her not having many friends, if any, and not much family left. Even her boyfriend doesn't want her anymore – well, he actually caught her in bed with his two friends and kicked her out. Her ex is pissed, and she soon realises the hard way that she never should have betrayed him. Yet, pretty-boy Andrew isn't as innocent as she thought. In fact, it turns out he's connected to one of the biggest gangs in America.

Lauren is beaten and abused in every way possible. Her human rights are stripped, and she is treated like an animal. Blindfolded and gagged, Lauren has no idea what is going to become of her, or if she will ever get out of the mess she has found herself in.

Karma has finally caught up with Lauren Ashford, but is this the end, or can someone out there help her? Are there men strong enough, or even brave enough, to face up to her captors?
When the toughest drug lords from Philadelphia come crashing into her kidnappers' motorcycle club's cabin, they find a beautiful girl chained up to a wall and made to live like a dog on the hard floor. She's not the only one, though: beside Lauren, there are two other girls. Even these hard criminals can see that this isn't right. In their world, women are treated with respect.

From here, Lauren is given the greatest gift. To go home. Once back in the UK, Lauren is under the protection of the UK Kings of Rebellion crew and is shocked to find that even though they are dangerous, they treat her so much better. One of these men is Brandon, the oldest son and next in line to take over the family business. Is this the man that Lauren needs? Or do her old habits of being a "do now, think later" kind of bitch, come back to bite her in the ass?

One thing is for certain, the president of the motorcycle club, who took her, wants her back...

Add To Goodreads




Excerpt

Demon throws the door open, shoving me inside and locking it behind us. He slowly strolls into the middle of the room, his large frame is very intimidating and no, I can't ignore the fact that he is sexy but that doesn't change who he is. "You're lucky that it was me who found you."
I look around the room, happy to see that there's not as many guns on the desk than last time. "How so?" I ask.

I see the annoyance flash on his face. "Because if it was any of those other men out there, you would be naked, hung up and being raped repeatedly right now."
My eyes widen from the shock of his words and he nods. "And you're better?" I dare to ask.

A devilish grin appears across his face. "No, I'm not saying that but you need to watch how you speak to me." I nod in answer. "Now sit on the sofa."
I hesitate for a second but when I see the warning on Demon's face, just daring me to disobey, I decide to take a seat. Demon quickly follows, standing over me. "How are you liking your new life with the Devil's?" I'm shocked by his question, obviously I can't say how much I hate it so I nod my head and smile. This makes him laugh down at me. "I think it's time to give you your name."

"I have a name." I point out.
"Lauren?" He asks and I shouldn't be shocked. He is Andrew's uncle after all. "No, I don't like that." He reaches for my hair and swirls it around his finger. "I love your shiny black hair, makes me want to pull it as I fuck you from behind." I gulp at his words. "That's what I'll call you."

"What?" I'm confused. "Black hair?"
Demons laughs loudly. "No! Your name is Raven." He rakes his big hands through my hair, it feels so good and I hate the fact that I close my eyes and savour it. "See Raven, I think you could really enjoy life here. You just need to relax." He crouches down in front of me. "If you let the club look after you and let me take care of all your needs, you will have such a happier life."
A happier life? Is this guy for real?

I don't think this place is capable of providing a happy life for anyone, except maybe the members. Demon opens my legs and of course I do nothing to stop him. When he sees that I am naked under the skirt that was provided by Tracy, he smiles along with a groan. "See, you're perfect."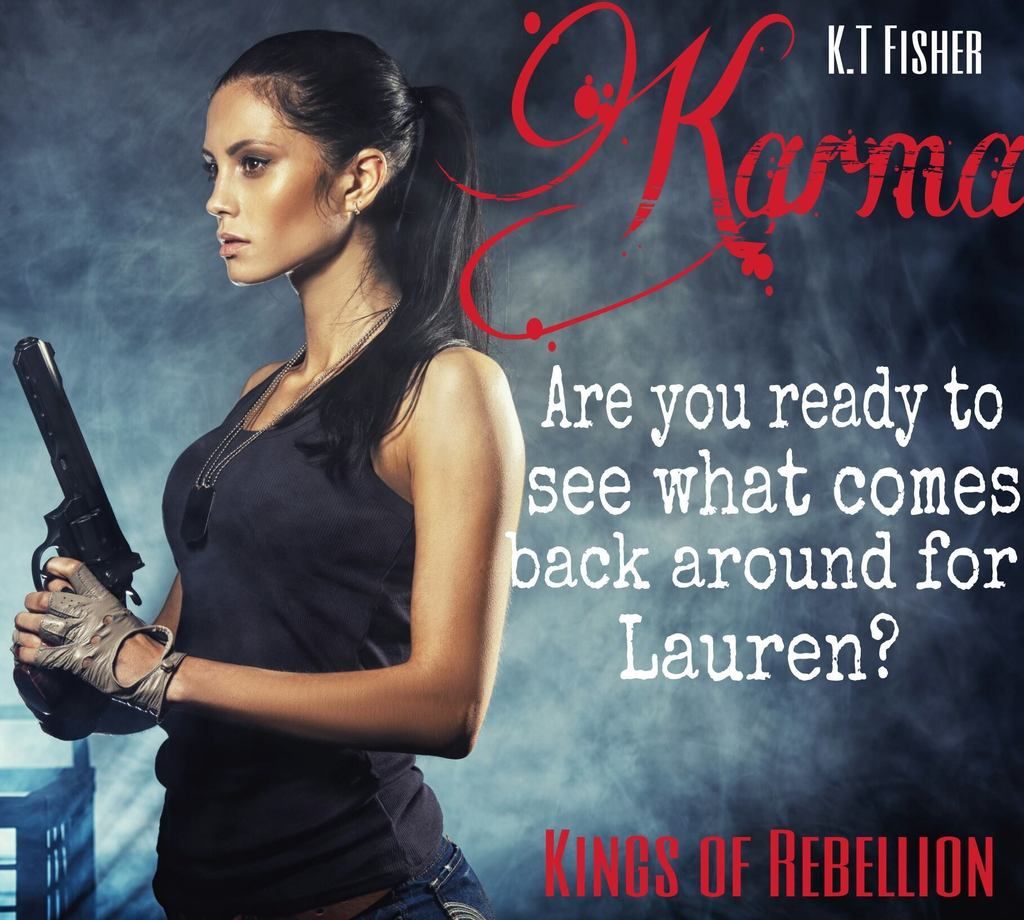 Purchase Links

http://www.amazon.com/dp/B00ZM04478
http://www.amazon.co.uk/dp/B00ZM04478


Review by
Karma by K T Fisher is the first book in her new Kings of Rebellion MC series. It's dark, twisted and shows the full force of karma when you truly deserve it and boy does Lauren deserve it!!

We first met Lauren K T's Decoy series where I officially loved to hate her. She was selfish, vain and malicious. Causing nothing but trouble to those around her; untold damage and issues followed her wake on her self serving agendas. She's now moved across the globe and it's here where she meets her match in the form of The Devils Spawn MC. She unknowingly catches the eye of one of their members and her ways drive him to extreme measures. She's held against her will and fears maybe she'll never escape the misery she's got herself into.

Without spoiling this gripping, emotional and extreme read its safe to say loyalties are tested, friendships formed and the depths of hell are truly ventured into. If your looking for a happily ever after read with hearts and flowers look elsewhere as this is one gritty MC series that I truly can't wait for more of!!

*** read and reviewed on behalf of Obsessed by Books ***

Review by
I was really looking forward to this book, as I love KT's writing, and I was really not disappointed.

Lauren is a girl that seems hell bent on causing trouble and doesn't think very highly if herself. I think there are some deep seated problems with her. She causes trouble for her family and is malicious on the way she goes about it, and also alienates herself from everyone.

Lauren gets herself in a lot more trouble and it's trouble that even she cannot get out of. In to the clutches of The Devils Spawn Mc.

She needs a hero and that comes in the form of Brandon, from the UK chapter of Kings Rebellion.

This is a story of Karma, it really shows that it can come around and bite you on the arse.

A story of lives being thrown in to danger, torture, and also redemption.
This a definite must read, but be warned it isn't a fluffy, mushy story. There are some very dark scenes within this book.

***** Reviewed on behalf of Obsessed by Books ********
Review by
* * ARC given on behalf of obsessed by books for an honest review * *
I was blown away, this book puts a whole new meaning to karma's a bitch. This book had it all drama., suspense, action, danger, sex, dirty sex, BIKERS, need I say more. There is so much to say about this book, but can't say to much for spoiling it, it was just amazing how Lauren was so mean to the ones she cared about, but would beat ass if for those she cared about as well, and the torture she went through, I just I can't say no more, but you must read this book.
Review by
~*~Obsessed by Books copy given in exchange for an honest review~*~



"I deserve this. A lifetime of causing people misery and fucking everyone over, karma finally came around."

As the saying goes.. what goes around comes back around and oh my Lauren really does learn the meaning of Karma as she is paid back two fold for every selfish, self driven malicious act she has committed. Running from one beautiful disaster to another, leaving a trail of heart break and devastion in her wake Lauren has no choice but to return to her home in America. Frightened of her ex, she is truly alone after her diabolical actions in England and finds herself in her apartment where she is greeted by a welcome hone party...

This begins Lauren's journey of suffering, pain and humiliation as she is stripped down into nothing more than an object. No feelings, no opinion just a living toy for a group of men that feel they are above and beyond the realms of humanity and have the right to own others. The Devils MC are a feared and powerful club that trade in women and more. Violent, supremely confident that they are untoachable Lauren and her fellow roommates are held captive and subjected to the whims of mad men drunk on their own power. Circumstances team two of the most selfish women together and they reveal their inner ugliness to one another as both believe that they derserve the situation they now find themselves in. Perhaps their bitchiness is their key to surviving although with each other they let their guard down and bond. When Elise is thrown into the mix, a daughter of a rival club, the women discover a new side as they step forward to protect the fragile newcomer. The three women become each other's lifeline and together they face the daily torments, barely surviving each night as the acts committed upon their poor battered bodies escalate. The horrors they experience haunting their dreams and they cling to the hope of rescue.

Abuse, violence and non consensual acts of depravity are a theme running throughout Karma but it's also a story of hope, personal growth and redemption. Lauren, a bitch we all love to hate in her previous escapades, flourishes into a remarkably strong and caring woman. Forfeiting her family due to her appalling behaviour she finds herself at the heart of her adoptive family The Kings of Rebellion MC and she has never been happier. Can she ever be free of the Devil's MC, or will Demon always be the devil on her back?

A five star Karma is a bitch read!
Playlist

VISIT Spotify

About The Author

I love reading, it's my favourite hobby. I've always had ideas for my own books packed into my head so I thought I would write them out for people to enjoy


Stalker Links
Facebook
Twitter
Book Club
Goodreads
Release Party
GIVEAWAY!
a Rafflecopter giveaway