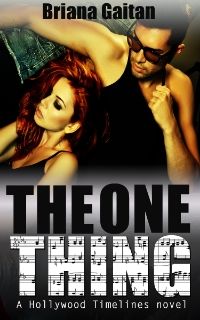 Title: The One Thing
Series: Hollywood Timelines Book Two
Author: Briana Gaitan
Genre: Contemporary Romance
Release Day: January 16th 2015
Synopsis:
When everything falls apart, he's the one thing that holds me together.
Ginger Teague may seem like your typical Hollywood actress with the famous boyfriend, designer clothes, money, and hit TV show, but constantly being in the public eye has its downside.
People seem more interested in her chaotic relationship with her on again/ off again boyfriend than her acting career,and Ginger isn't dealing with her new found fame in a way she always envisioned. She masks her unhappiness with too many parties and an unhealthy habit of binge drinking. As much as she wants love, men find her as a pretty amusement, not the type of girl you take home to mom and dad.
When she meets Caspian Norwood, they quickly begin a regimen of flir
ty emails.
He's a struggling musician that doesn't quite fit her idea of the perfect boyfriend.
He's older, mysterious, cultured, knows exactly what to say and do in all the right situations, and Ginger can't help falling for him. But the world is against them, pushing them apart, and it's beginning to feel as if they're only meant to be friends.
The One Thing is a standalone novel and book two in the Hollywood Timelines series. You met Ginger in The Last Thing, now hear her love story.
(Intended for ages 18 and up)
Join the Facebook release party for TAKEOVERS, PRIZES, AND FUN!

Special PREORDER price 99 cents!!!
AMAZON:
http://amzn.to/1vjAWEK
KOBO:
http://store.kobobooks.com/en-US/ebook/the-one-thing-4
SMASHWORDS:
https://www.smashwords.com/books/view/499535
iTUNES:
https://itunes.apple.com/us/book/the-one-thing/id949670300?mt=11
Barnes and Noble http://www.barnesandnoble.com/w/the-one-thing-briana-gaitan/1120878173?ean=2940046448641
Add to your Goodreads shelf
https://www.goodreads.com/book/show/22756713-the-one-thing
Review by Mazzy Boss Lady
I was lucky enough to beta read this book, and it was one that I was eagerly awaiting.

This is Ginger's story and we really find out what is beneath all that facade she puts one. What we find is a broken woman who feels like she has to put on a brave face everyday in order to accomplish anything.

I think that she feels like she doesn't deserve any better than she has already.

Meet Caspian, I really loved him here in this book and he really felt real and Ginger deserves someone like him.

This is a really good read, and you will wanting the next book as to find out the details of their lives.
I'm going to make the most dramatic exit of all time. An exit to put all exits to shame. A sharp piercing scream fills the air, and the entire room quiets, stealing my moment.
"Gross…" I hear someone say.
I spin around, my eyes scan the room. It's Quinn's voice yelling out for me. Last I saw, she was near the fireplace with Chase.
"Ginger!" I follow the sound of the voice, through the dozens of people to the other side of the room near the bar.
"Move outta my way fat asses," I yell as I push people aside. I see her. Quinn stands with Chase next to her, she's leaning against the bar, a puddle near her feet.
"Holy shit, your water broke."
"You think?" she snaps at me.
Chase throws a fist into the air. "I'm gonna be a dad!" The whole room breaks out into a cheer. We've all been waiting months, but she isn't due for another two weeks. Is this safe?
"Should we call 911?" someone asks.
"No," I say, grabbing Quinn's hand. "Quinn is gonna be birthing at home."
Her hazel eyes shine with excitement as she looks at me and smiles. "It's time."
"It's time," I repeat. To think, for so long I was even more excited that she was about the baby.
"I can't believe your water just broke, in public." I begin rattling on as I always do when I'm nervous. "That like never happens in real life only in the movies to add heightened drama and all that crap, and sometimes—"
"Focus, Ginger," Chase snaps. He waves a hand in front of my face. "Get Quinn to the car. I'm calling the midwife and getting our coats."
I give Chase an evil glare before sweetly turning back around to help Quinn.
"Move, people! Pregnant lady in labor coming through."
About the Author
Briana Gaitan grew up in the South, but calls herself a geek at heart. She is a blogger,author,and fangirl who loves Star Wars, Star Trek, and Jewelry (bet you never thought you'd hear those three things in a sentence together) For fun, she loves watching any show on the SyFy channel, relaxing with her family, reading, and listening to indie music (sometimes all at the same time). Briana loves to write stories where there are no limits to the imagination. She is also the co-author of the fantasy Ethereal Underground series.
Don't miss the other books in the Hollywood Timelines series
a Rafflecopter giveaway